Description
Architectural Engineering PE Exam Review Course
"Of all the things successful people do to accelerate their trip down the path to success,
participating in some kind of coaching program is at the top of the list."
– Jack Canfield, The Success Principles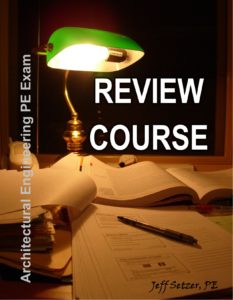 If you want to pass the PE Exam the first time (or this time), this Review Course will get you prepared.
3-step preparation method that will equip you with the tools needed to be successful.
10 things you should do to have total confidence on exam day.
A specific plan of action for each of the test topics.
If you don't have the time or the desire to sit through a live PE Exam refresher, this Review Course will get you prepared.
1 hour per day plus 3 to 4 hours on the weekends can get you prepared in 1 month or less.
Working through the course on your schedule produces better results.
Being lectured to in a classroom setting will not provide the resources you need on exam day.
If you're looking for a program that gives you what you need to become a licensed PE, this Review Course will get you prepared.
7 must-have resources for success on the PE exam.
7 main reasons people fail the PE exam (and how you can beat the odds.)
7 simple actions you can perform every day that ensure you will be prepared.
In trying to prepare for the Architectural Engineering PE Exam:
Is adequate PE Exam preparation time difficult to find in your hectic schedule?
Are work responsibilities, family time, or personal projects keeping you from studying?
Would a structured study plan with daily accountability be useful?
The Architectural Engineering PE Exam Review Course will help you overcome these obstacles and get you prepared for the PE Exam. The Architectural Engineering PE Exam Review Course is a comprehensive, in-depth review of every topic covered on the exam (refer to NCEES.)
The Architectural Engineering PE Exam Review Course is divided into 60 lessons with instruction, homework, links to related sites, examples, and sample practice problems.
---
BUILDING SYSTEMS INTEGRATION
Lesson 01 – Aspects of Building Performance that Affect Human Comfort
Lesson 02 – Building Envelope Analysis for Integrity and Efficiency
Lesson 03 – Impact of One System on Another
Lesson 04 – Life Safety Systems
Lesson 05 – Comparative Systems Efficiencies
Lesson 06 – Sustainability in Design and Construction
Lesson 07 – Applicable Standards, Specifications, and Models
Lesson 08 – Building Plans, Specifications, and Models
Section Quiz 01 – Building Systems Integration*
---
ELECTRICAL SYSTEMS
Lesson 09 – Electrical Power Systems Analysis
Lesson 10 – Short Circuit Analysis
Lesson 11 – Grounding Principles
Lesson 12 – Electrical Construction Methods and Materials
Lesson 13 – Overcurrent Protection Methods and Device Coordination
Lesson 14 – Branch Circuit & Feeder Conductor Sizing
Lesson 15 – Power Factor Correction
Lesson 16 – Voltage Drop Calculations
Lesson 17 – One-Line Diagram
Lesson 18 – Fire Alarm Design Principles
Lesson 19 – Lighting Calculations
Lesson 20 – Light Source Selection
Lesson 21 – Lighting Control
Lesson 22 – Receptacle Layout
Lesson 23 – Electrical Systems Review
Section Quiz 02 – Electrical Systems*
---
MECHANICAL SYSTEMS
Lesson 24 – Heat Gain and Loss Calculations
Lesson 25 – HVAC System Analysis and Selection
Lesson 26 – Energy Calculations
Lesson 27 – Ventilation and Pressurization
Lesson 28 – Indoor Air Quality
Lesson 29 – Air Distribution
Lesson 30 – Psychrometrics
Lesson 31 – Hydronic and Steam Systems
Lesson 32 – Fan and Pump Laws
Lesson 33 – Pressure Loss Calculations in Ductwork and Piping & Flow and Riser Diagrams
Lesson 34 – Materials and Methods
Lesson 35 – Piping for Specialty Systems
Lesson 36 – Pipe Expansion
Lesson 37 – Static Pressure Calculations
Lesson 38 – Equipment Selection
Lesson 39 – Sequences of Operation for Building Controls
Lesson 40 – Domestic Water Systems
Lesson 41 – Sanitary Waste and Vent Systems
Lesson 42 – Stormwater Systems
Lesson 43 – Fire Protection Sprinkler and Standpipe Classifications
Section Quiz 03 – Mechanical Systems*
---
STRUCTURAL SYSTEMS
Lesson 44 – Types of Construction
Lesson 45 – Component Forces
Lesson 46 – Structural Load Effects on Overall Electrical, Mechanical, and Structural Systems
Lesson 47 – Connections
Lesson 48 – Loads
Lesson 49 – Analysis of Trusses, Frames, and Shear Walls
Lesson 50 – Analysis of Construction Systems
Lesson 51 – Analysis of Stability
Lesson 52 – Analysis of Deflection
Lesson 53 – Foundations
Lesson 54 – Materials Characteristics & Design of Structural Components
Section Quiz 04 – Structural Systems*
---
PROJECT MANAGEMENT AND CONSTRUCTION ADMINISTRATION
Lesson 55 – Differing Site Conditions
Lesson 56 – Alternates
Lesson 57 – Contract Administration Correspondence & Quality Control
Lesson 58 – Construction Documents and the Submittal Process
Lesson 59 – System Conflict Resolution & Legal Issues
Lesson 60 – Scheduling of Design Tasks, Sequences of Activities, and CPM
Section Quiz 05 – Project Management and Construction Administration*
---
80-Question Final Exam**
---
This course may qualify for up to 20 PDH (Professional Development Hours)/2.0 CEU (Continuing Education Units.)
*The section quizzes are optional, but recommended.
**If you are claiming Continuing Education credit for this course, the Final Exam is required with a score of 70% or better.
The Architectural Engineering PE Exam Review Course is designed to help you prepare for the PE Exam by following these 3 steps:
Work through the information in the Course … follow the references … dig deep.
Work as many problems as you can find and note where you have difficulties.
Take the time to put together a comprehensive Test-Day Resource Library©
Remember, this is a process. If you will:
spend time every day
work the problems
assemble the resources
… you will be successful.
If there is anything I can do for you, please do not hesitate to ask.
To Your Success …
Jeff Setzer, PE




If you have any questions or comments while working through the Architectural Engineering PE Exam Review Course, please do not hesitate to contact me.
I'd also appreciate your feedback once you've completed the guide.
Architectural Engineering PE Exam Review Course